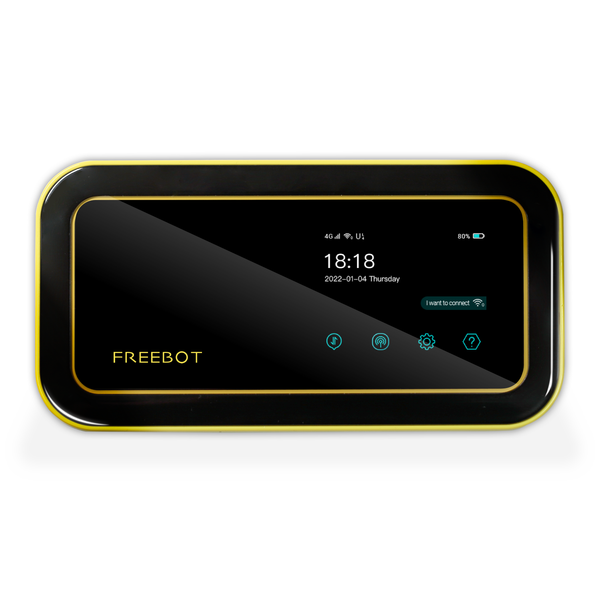 FREEBOT U2B Mobile WI-FI Hotspot Router Wireless Portable Wi-Fi, No SIM-Card, 3600mAh, Free Roaming, Worldwide, Travel, Home, High Speed Pocket Wi-Fi
[Cloud SIM technology & global coverage over 150 countries/regions]. FREEBOT WiFi converts the ubiquitous 4G LTE into a WiFi network without any SIM card inside. UCOM uses virtual SIM card technology to allow you to use 4G high-speed data without buying a local SIM card when traveling overseas or on business. The FREEBOT WiFi travel router allows reliable priority local 4G LTE network (up to 150 Mbps download/50 Mbps upload) in more than 150 countries and regions without any roaming charges.


[Exclusive App & Data Package with no roaming charges] You can manage, purchase more data quickly and easily in our data store. When you run out of data packages, simply download the FREEBOT app from the "Apple Store" or "Google Play Store" and use it. After downloading, you can track your data usage and recharge instantly in anywhere, with no contracts or extra roaming charges.

[Instant purchase and use, no registration required] You need to place an order and receive the FREEBOT WiFi device, turn it on and use the Internet connection without doing anything more.[3600 mAh rechargeable battery] A built-in 3600 mAh rechargeable battery can provide 8-12 hours of power. It's light weight, small, and makes travel convenient and worry-free.

[Connect 10 devices] FREEBOT WiFi can connect up to 10 Wi-Fi enabled gadgets, including your laptop, smartphone, PC, Kindle and more, just like your personal reliable and secure Wi-Fi hotspot or home broadband. The device has a built-in 3600 mAh rechargeable battery that provides 8-13 hours of use. It is lightweight and small in size, making travel convenient and hassle-free.